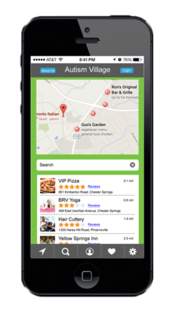 Twainbow is proud to partner with Autism Village to provide autism resources and information — no matter where you live in the world.
With an interactive app, everything you need is at your fingertips!

The Asperger Syndrome Training & Employment Partnership (ASTEP) promotes the inclusion of individuals with Asperger Syndrome and similar autism spectrum profiles in competitive employment. ASTEP does this by Educating Employers & Building Relationships.
Do you think you may be on the Autism Spectrum? If you're looking for an online test that can help you look for which neurodiverse or neurotypical traits you may have as an adult, then this is a great start. I took this test before my diagnosis to help better understand who I was and what traits of neurodiversity I had.
Corey Coloma
Twainbow, Director
LGBTQI+ Adults with Asperger's/Autism Facebook Group (16+)
The aim of this group is to rectify that by providing a clearinghouse of information about the additional challenges we may face, and hopefully those who have had success navigating an LGBT love life may share some of their insights.
Dr. Grandin is a noted autistic who is an author, speaker, cited expert in many publications, and video producer.
This and That, After Club
A monthly social activity group for LGBT Autistic Adults in Toronto .
IAN (Interactive Autism Network)
IAN, the Interactive Autism Network, allows you to discover the latest autism information and share what you know by participating in research online.
My Autism Passport (M.A.P)
My Autism Passport (M.A.P.) is a free interactive app to help parents plan, navigate and manage their child's developmental treatment journey after they have received an autism diagnosis.